Nominating Committee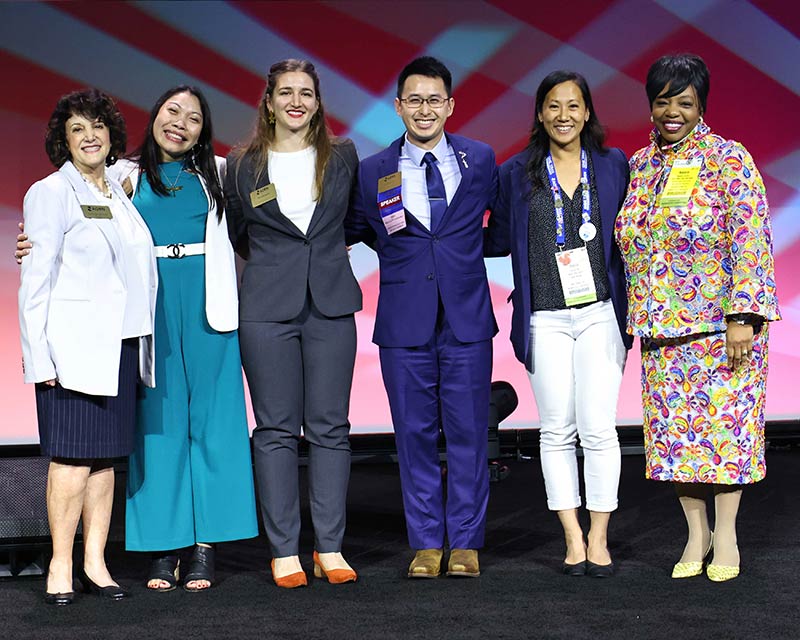 (Left to right) Vangie Dennis (Advisor), Daphny Peneza, Olivia Raymond, Charlie Lin (Chair), Stella Yau, and Natalie Jones.
Natalie B. Jones, DHA, MBA, BHSA, BSN, RN, CNOR
Nominating Committee Member
Candidate for Nominating Committee (Two to be Elected)
Natalie B. Jones, DHA, MBA, BHSA, BSN, RN, CNOR, is a director of Perioperative Services and a nurse consultant at NBJ Healthcare Consulting and Management Company, Fort Lauderdale, Florida. She earned an associate degree in nursing from Palm Beach Community
College, Lake Worth, Florida; a Bachelor of Science in nursing from Grand Canyon University, Phoenix, Arizona; a Bachelor of Science in health services administration from Florida Atlantic University, Boca Raton; a Master of Business Administration from Nova Southeastern University, Fort Lauderdale, Florida; and a Doctor of Health Administration from the University of Phoenix, Arizona.
Jones has been a perioperative nurse for 36 years and a member of AORN for 24 years.
She is a member of
AORN South Florida (2013-present),
the Florida Council of periOperative Registered Nurses (2013-present),
the Leadership Specialty Assembly (2015-present),
the Clinical Nurse Educator Specialty Assembly (2015-present), and
the Ambulatory Surgery Specialty Assembly (2015-present).
Jones has attended Congress eight times in the past 10 years, each time as a delegate.
Jones has received
AORN national recognition for volunteer services (2020-2021).
Highlights of Jones's service to AORN include that she is
a member of the Award for Individual Achievement Committee (2021-present) and
vice president of AORN South Florida (2022-present).
She has been
treasurer of AORN South Florida (2020-2022),
a member of the AORN South Florida Board of Directors (2013-2022), and
a presenter at the AORN Global Surgical Conference & Expo (2021).
In other leadership roles, Jones has been
chair of the Recruitment and Retention Committee for Perioperative Services, St. Joseph's Hospital, Tawas, Michigan (2013-2014);
a member of the Florida Organization for Nursing Leadership (AONL) (2014-2016);
a presenter at the Florida Organization of Nurse Executives Symposium (2017); and
a perioperative director and consultant for Sidra Medical and Research Center, Doha, Qatar (2017-2018).
In her community, Jones is
chair of the Redemptive Life Palm Beach (RLPB) Healthcare Services Committee (2018-present).
She has been
a volunteer for the Miami Rescue Mission Homeless Shelter (2018-2019),
a volunteer for the Palm Beach Harvest Food Distribution Services (2022),
guest speaker/presenter for Palm Beach State College Career Day (2018-2019), and
a member of the YMCA of Central Florida Board of Directors (2016-2017).
Election Statement
It is an honor to be selected for the AORN Nominating Committee ballot. Thank you for the privilege of serving as a candidate for our esteemed organization.
AORN is a global professional nursing association that represents the pillar of excellence. AORN's purpose is to provide services to our membership and enhance perioperative nursing practice. Recent years have presented many firsts for our profession along with unprecedented challenges. AORN has remained a positive influence committed to the professional growth of our members, the development of leaders, patient care advocacy, and safety while enriching the value of nurses.
As perioperative nurses, we make a tremendous difference in the lives of many. AORN's Nominating Committee has the distinctive role of identifying and preparing AORN leaders as candidates. My passion as a perioperative leader and candidate for the Nominating Committee is to serve our membership and be a vital part of the advancement of our association.
My steadfast dedication to AORN at the local, state, and national levels has uniquely prepared me for my next level of commitment and involvement. As a perioperative nurse, director, and administrator, and in my previous position as a nurse recruiter, I desire to continue promoting excellence in perioperative practice, advancing our profession, and supporting professional growth and leadership.
AORN enriches my passion and zeal to serve others. I delight in the opportunity to help cultivate future perioperative leaders. I request your vote to become a dedicated member of the AORN Nominating Committee. Thank you for your support.