Partner with AORN
Safe surgery together. Every patient, every time.
AORN (Association of periOperative Registered Nurses) represents the interests of more than 200,000 nurses, educators, leaders, and other healthcare professionals working in the perioperative setting.

For over 70 years AORN has used evidence-based research to define the standards that help keep healthcare workers and surgical patients safe, while continuously developing new education and resources to support high-quality perioperative care. AORN unites and empowers perioperative nurses, healthcare organizations, and industry partners to support safe surgery for every patient, every time.
Why Partner with AORN?
Leverage AORN expertise to understand how your products or services align with AORN Guidelines for Perioperative Practice for improved differentiation to your customers.
Access a diverse population of perioperative nurses, educators, and leaders eager to offer insights and feedback vital to product development and testing.
Build brand awareness of your products or services among the key OR decision-makers and influencers through robust advertising solutions.
Engage with perioperative professionals at national and regional conferences, education events, webinars, and more.
How We Connect You to the Perioperative Market
Exhibit, sponsor, and reach highly engaged attendees at the largest surgical conference in the world. Launch your new product, make new connections, and hire new talent for the OR.
79% of attendees influence buying decisions in their facility
15% of attendees on average work in an outpatient setting
23% of attendees are age 40 and under
39 countries represented in 2023
Implement targeted advertising to strategically connect with the largest perioperative database in the U.S.
AORN offers a variety of targeted, effective advertising solutions, including:
Targeted Emails
Web and Digital Newsletter Ads
Social Media
Retargeting Campaigns
AORN's latest laser safety training course has been created to fulfill the required training for all healthcare practitioners engaging with laser systems. Additionally, the new in-depth workshop caters to the distinctive training criteria for Laser Safety Officers.
Sponsorship opportunities include recognition before, during, and after the virtual live training sessions
Tune in as participants pose their questions in real time
Offer supplementary collateral and materials to registrants
Presented by Certified Medical Laser Safety Officer & Instructor Vangie Dennis, MSN, RN, CNOR, CMLSO
Connect with local periop nurses, leaders, educators, and staff as we travel to 6 cities this fall delivering 1-day Guidelines Workshops focused on the latest updates to AORN Guidelines.
Presented by AORN Guidelines for Perioperative Practice authors
Attendees have dedicated time after each education session to experience your hands-on product demos in the adjacent technology room
Ideal for local reps to establish new contacts
Gather first-hand, voice-of-customer data that will help you develop or improve your product, processes, packaging or services with customizable market research.
Virtual or In-Person Focus Groups
Online Surveys
Exclusive Focus Groups at AORN Expo
Meet local perioperative nurses and leaders in a day full of hands-on demos, solution sharing, and education.
Engage with AORN Chapter members and leaders
Experience unopposed exhibit hours and facilitated engagement in the Vendor Showcase
Host hands-on demos and highlight your solutions for the OR
Support education and events for perioperative nurses while making new connections.
Face-to-face Events
Live Webinars
Center for Nursing Leadership
Clinical Resources
And more
Do your educational and training materials align with the AORN Guidelines? Prove it with AORN's Seal of Recognition Program.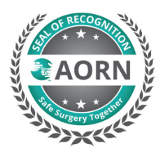 One of America's Top Online Learning Providers 2023
We are honored to be included on the Newsweek and Statista America's Top Online Learning Providers Award List.