Introducing The Stitch: Putting the Pieces Together for Novice Perioperative Nurses
By: Rebecca Vortman, DNP, RN, CNOR, NEA-BC
Published: 8/30/2023
Share:
Dear Perioperative Nurse Colleagues,
Welcome to the inaugural issue of AORN's digital community for novice perioperative nurses and the educators and preceptors who support them: The Stitch: Putting the Pieces Together for Novice Perioperative Nurses. I invite you to explore the digital community and share it with your colleagues.
The Goal
We know that perioperative nursing is both tremendously challenging and extraordinarily rewarding. The goal of The Stitch is to be a community and resource to help address the challenges (clinical, interpersonal, and motivational) and to highlight the rewards. Additionally, we want to support novice nurses, preceptors, and educators in helping each other as they work together to improve the lives of their patients; and in doing so, enrich their own experiences within the noble profession and mission to which they are dedicating their lives.
For novice perioperative nurses, The Stitch aims to provide short content to help you navigate your first two years in the perioperative setting and bridge knowledge-practice gaps between your initial orientation and onboarding in the OR to full competency. Our mission is to provide practical tips and relatable experiences. Our vision is to boost your confidence and provide a path for networking and education in an informal and interactive online community. Ultimately, the stories shared are intended to be personable and relatable to give you the reassurance that you are not alone in your perioperative nursing career journey. Our authors and contributors are other perioperative nurses, leaders, and educators who want to share their experiences and knowledge with you.
We also have a section explicitly aimed at perioperative nurse educators and preceptors. We recognize that educators and preceptors are looking for new ways to provide education to novice nurses; therefore, The Stitch will arm you, our perioperative nurse educators and preceptors, with content that provides innovative ideas that you can apply in educational offerings at your facilities. In addition, you will hear from exceptional nurse educators about what has worked well for them when educating their novice nurses. Finally, The Stitch also provides you with a supportive community geared at collaboration and learning for educators and preceptors to support novice nurses.
What You Can Expect
You will receive weekly content beyond the traditional writing you might see in AORN Journal or Outpatient Surgery Magazine. Our digital community offers advice through conversational articles; factual, brief, and educational snippets; storytelling through videos; and quick and practical tips from your peers. Additionally, we will have a comic, games, and downloadable resources you can apply in your practice.
What I love best about The Stitch is that the perioperative community, including novice perioperative nurses, drives the content and ideas. Novice perioperative nurses are encouraged to share their stories and experiences in articles and videos, request advice from the Masked Maven in our advice column, or submit topic requests and suggestions to [email protected]. Likewise, experienced nurses from across the globe are encouraged to share their expertise in articles and videos to support novice nurses' transition into perioperative practice.
The Inaugural Issue
In this inaugural issue, you will get to listen to and read inspirational messages and words of wisdom from experienced perioperative nurses. In the section "Proud and Discouraging Moments," you can read about a nurse who forgot to plug in the suction machine during a case when new to the profession—I think we can all relate to that experience! In "Dear Masked Maven," an experienced perioperative nurse provides advice to a novice nurse who is anxious about taking call for the first time. Be sure to check out our first comic, "In Scrubs and In Stitches," which highlights the humor in having multiple names for one instrument. You can brush up on your procedural skills in our "Procedure Quick Tips" series, which includes information on a laparoscopic cholecystectomy procedure. Preceptors and educators may want to glean some insights about building trust with new hires in our "Tips for Teaching" section. There are many more helpful resources in this issue, and we hope you take time to read, watch, and share them with your colleagues.
We Want to Hear From You
Thank you for your interest and for visiting the site. We look forward to your feedback and appreciate you letting us know what you like best and what else we can include in future issues to support your perioperative nursing career. (We also want to give a special thanks to our team of perioperative nurse contributors, series coordinators, The Stitch advisory board members, and AORN leadership for making this digital publication possible.)
We look forward to your engagement and hope you enjoy the content and the community aimed at supporting your practice in the perioperative setting. We also hope you will consider being one of our contributors. Please contact us at [email protected] to share your feedback, let us know what pertinent information we can provide to support your success, and to learn more about contributing. Be sure to check back each week for new content and follow AORN on Instagram, Facebook, LinkedIn, or X/Twitter to be alerted when new content is available and connect with The Stitch community.
Sincerely,
Rebecca Vortman
Associate Editor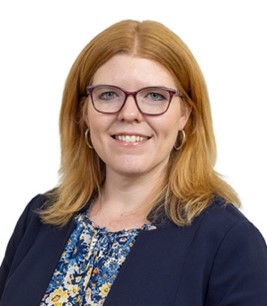 Related Articles
This handy pocket guide can help ensure you don't miss a step when starting each case.
A new nurse seeks advice about not being sure they are cut out for the OR.
Test your knowledge of basic surgical instruments.